Transforming the retail business online has become a need today. The pandemic has intensified this rage, with eateries, food joints, cafes, and restaurants experiencing a decline in in-house food orders. The only medium left out for the customers was to order food online. On-demand food ordering apps with multi-chain restaurant features have helped in bridging the customers and the food providers to reach out to the wider customers in a short time.
Witnessing the situation, restaurants are the worst hit. Not all can afford to develop a food delivery app. If you are a startup or an established restaurant owner you can develop your multi-chain restaurant app.
The advent of on-demand food delivery apps has made it possible for restaurants to earn greater profits regardless of the pandemic. Thus, developing a multi-chain restaurant can be amazingly pocket-friendly, quick, and can be launched in a matter of a few days.
So, if you are wondering what is a multi-chain restaurant app, we give you a glimpse here.
What Is A Multi-chain Restaurant App?
A multi-chain restaurant app is just like any other food delivery app platform that takes online deliveries from different regions. So, let's understand the working mechanism with an example here, Subway. Your user is ordering a subway sandwich from the app. Now the app will assign the order to the nearest Subway chain.
This way, the restaurants that have a chain or who wish to develop in the various location can take benefit by developing multi-chain restaurant app. The customers will order food from the nearest location, thus the restaurants will not miss out on the customers. The app comes built with a dynamic dashboard that seamlessly takes care of the orders effortlessly.
What are some of the popular multi-chain restaurant apps?
A considerable number of independent & established eateries have strolled down this path of having an app for their business proceedings and have gained tremendous success off-late. Here are some famous names in the sector,
Domino's Pizza: Having 15,000 retail stores spread across 83 countries, Domino's Pizza is a pioneer of multi-chain restaurant apps. The platform promises 30-minute delivery in most regions and accepts orders seamlessly via intuitive mobile and web applications.
Taco Bell: Catering to the needs of more than 2 billion people each year, Taco Bell has spread across a massive 7072 restaurants to date. The platform, known for its discounted menu offerings, was valued at $15 billion in 2017.
Subway: This American-based fast-food company is one of the world's largest outlets, having massive 37,855 outlets across 100 countries in 2018. Serving 69 million customers daily, the platform generates annual revenue of $21 billion.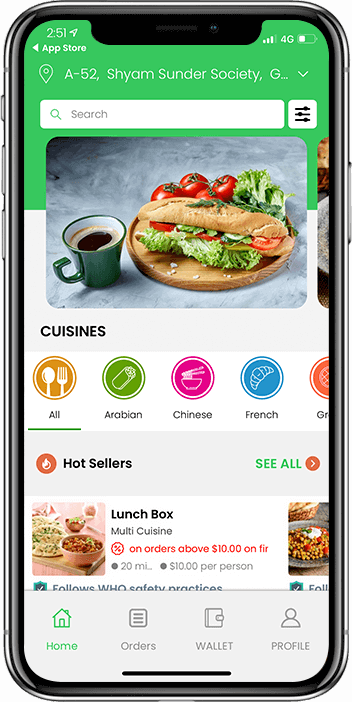 Advantages Of Building On-demand Multi-chain Restaurant Like McDonald, Dominos, and Subway
Débuting with a multi-chain restaurant app comes with enticing perks to the entire restaurant business ecosystem. Following are some advantages of developing one under your brand:
You will never lose your customers
By developing this multi-chain app the user will place the order and get it delivered from the nearest chain. Thus, regardless of the distance, the customers will be served., thus generating greater profits.
You get to retain your old customers
People do not want to wait in line to get their orders processed. Especially in these pandemic times where social distancing is mandatory. Thus the app will provide them with the nearest chain where they can place the order and get it delivered in as quick as 30 minutes.
Retaining potential customers
In today's fast-paced world where people expect things on the go, people neither have the time or energy to visit restaurants. People prefer ordering their favorite cuisines via smartphones anytime and anywhere. As a result, you can stay on your customers' radars by having a food delivery app. This way, by boosting your brand visibility, you get to retain potential customers.
Boost in revenue
The expenses are mounting and it is challenging to manage a restaurant amidst the pandemic. Having an app can be the best resolution that allows you to get more orders, ensuring that you are not losing your customers. The app helps leverage various kinds of marketing campaigns through the app.
You can cater wider audience substantially boosting the sales. sales substantially. Besides, with a multi-chain food delivery app, you can earn revenue via subscriptions, advertisements, and more.
Widening the customer network
The restaurants, cafes, and eateries have a physical presence. Taking that presence online, the customer will have access to your restaurant 24/7/365 days. This way you are widening your customer network, offering them their meals at their doorstep. This way you will keep brimming the revenues, have more customers, and increase your app visibility.
Features To Attract More Customers
Now that you know the compelling reasons to develop multi-chain restaurants to launch a food delivery app, it is the right time you launch yours. Loaded with rich features, and user-friendly functionalities, a multi-chain restaurant food delivery app offers the following features:
Restaurant wise commission
Daywise separate time slots
Item searching
Order cancelation option for the delivery drivers
Quick upload the restaurant kitchen pictures
Contactless deliveries
Safety badge
Safety ratings and reviews
Graphical icon status of the orders via in-app notifications
Voice notes instructions for delivery drivers
How Can A Mobile App Development Company Help?
Choose a company that has more than a decade of experience in app development. Collaborate with a white-label app solution company that has experience working with several startups and has helped them create success stories. Make sure to take the live demo on both the platforms and features you need to get it customized. The multi-chain restaurant app like McDonald's, Dominos, and Subway should help in scaling up your business. Connect with the app development team that assists you in launching the latest multi-chain restaurant app in just a few days.